Everyone loves June! The days are getting warmer and longer, winter is finally behind us and summer is right around the corner. June is an especially nice time in the Bow Valley, the river is full, the leaves on the trees are opening, the spring blossoms are out, the bears are awake, and people are out and about. Downtown Canmore is a great place to be in June.
"I wonder what it would be like to live in a world where it was always June."
~ L.M. Montgomery, Anne of the Island
Canmore Locals' Top 4 Tips for Summer in Downtown Canmore:
Ride your bike, or walk. Canmore is a very bike friendly community, take advantage of the beautiful interconnecting trail ways.
El Fresco Dining. Downtown Canmore has an incredible selection of outdoor patios, see our full list below. Spend as much time outdoors as possible!
Stay Cool with Ice Cream. Because summer.
Share your photos online with our free wifi. New this summer, Downtown Canmore is offering free wifi on the Main Street – #downtowncanmore
Ride your bike, or walk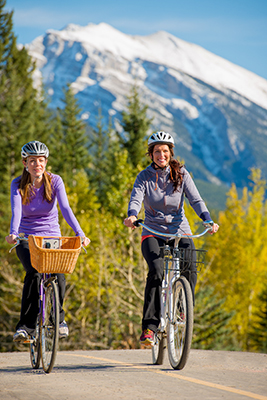 Biking is BIG part of Canmore's culture; our town is really bike friendly! Canmore offers something for cyclists of all ages and abilities, from road cycling to mountain biking or cruising the river and creek pathways. Downtown Canmore is flat with a well-maintained path system. Discover our bike trails.
Downtown Canmore Bike Shops
While biking in Downtown Canmore don't forget to stop by the Bicycle Café for a coffee and chat. 102 – 630 Main Street.
Rebound Cycle is a premier bike shop known for quality staff, bikes, rentals and customer service. They specialize in mountain, road and fat biking. 902 8 Street.
Rebound Cycle also offer Group Mountain Bike Rides every Wednesday 6-8 PM.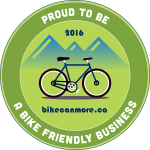 Biking is Canmore's Culture
Bike Friendly Canmore is an initiative that was developed to educate people and generate awareness around riding bikes. The program includes a Bicycle Friendly Business Program a collaborative network of businesses that work together to grow Canmore's culture of biking. Visit the Bike Canmore website. View a list of bike friendly businesses.
El Fresco Dining!
There is something special about dining outdoors, especially after a long, cold Canadian winter! Downtown Canmore not only has a wealth of amazing restaurants and eateries, it also boasts an incredible number of patios and outdoor spaces. One aspect of Downtown Canmore in summer that everyone loves is the little wooden patios or parklettes that the Town builds. Canmore is a special mountain town; the patios downtown offer some of the best views of the Rockies anywhere in Canada!
Downtown Canmore Patios and Outdoor Dining:
Stay Cool with Ice Cream
One of the most enjoyable ways to stay cool this summer is by indulging on ice cream! Downtown Canmore is lucky to have three fantastic locations that specialize in this crowd pleasing frozen treat.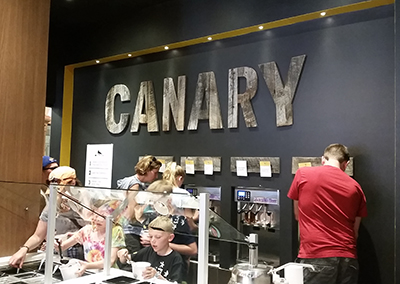 Canary Frozen Yoghurt and Ice cream – One of Canmore's newest downtown businesses, Canary has some fresh flavours and a fun store.
Canmore's Scooping Moose –  Canmore's own ice cream parlour! Serving up the best quality local ice cream, sundaes, floats and milkshakes!
The Old School Bus Ice Cream – A Canmore summer favourite!
Free Wifi
Downtown Canmore if pleased to offer free wifi on Main Street this summer – #downtowncanmore