Downtown Canmore is certainly more well-known more for its towering mountains than its tall buildings, but we do have a selection of two story buildings downtown with businesses upstairs! Have you ever wondered what it would be like to have a bird's eye view of Canmore? Well here's your chance! This month we are featuring Canmore's second story Downtown businesses that will all give you a beautiful view from above.
"Always look up, you never know what you might see…"
Downtown Canmore's Second Story Feature Businesses
Murrieta's Bar & Grill 737 8 Street Located on the corner of Canmore's bustling 8th Street, Murrieta's is a local favourite! This beautiful large upstairs space showcases vaulted ceilings with majestic beams. Not only does this bar and grill have lots of natural light, some of their windows open right up to give you a true birds-eye view of Canmore.
PrimitiveImprint Tattoo 1001 6 Ave #213. Owner Corson Hayes specializes in custom black work, dot work, tribal, sacred geometry,  and nature tattoos. They also do piercings!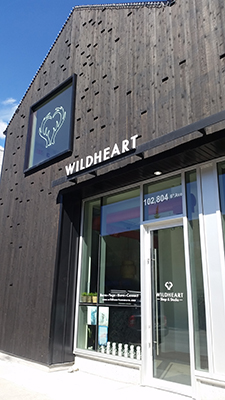 Wildheart Yoga 102-804 6th Avenue One of downtown Canmore's newest businesses, Wildheart Yoga is located behind The Tin Box; next to Toniq. Yoga and cold-pressed juice = the perfect combo. Wildheart is a beautiful space for movement and they offer a variety of both yoga and barre classes.
Blackett Law 1001 6 Avenue #221 Blackett Law is a boutique legal services consultancy based in Canmore, Alberta. They are pleased to offer legal solutions locally in the Bow Valley, throughout the Province of Alberta, and globally. Don Blackett has 33+ years of local and international corporate and commercial legal experience. He has worked with major Canadian and international law firms, as well as with a leading Canadian-based global engineering and construction company.
Canmore Mortgage Solutions 1001 6 Avenue #221 Trisha Isaac is a licensed mortgage agent who works with clients to find the her clients the best mortgage solutions. She believes that your mortgage needs to be flexible enough to handle life's adventures. Many people don't anticipate that they may need to make a change mid-way through their mortgage term when they buy a home. It is an exciting time and there is lots going on. But life happens. Kids happen. Work happens. Stuff happens. You can see a lot of change in five years so your mortgage needs to be nimble. Anyone can get you a great rate. The key is to understand that great rate. That is where an experienced agent like Trisha can really help make a difference.
Canmore Real Estate Company #205 – 820 8 Street. The Canmore Real Estate Company is a partnership between Devin Stephens and Bob Aishford. Devin's philosophy is energy in equals energy out, the law of physics applies to everything in life including real estate. With over ten years of proven Marketing & Real Estate experience, Devin prides himself in providing his clients the performance driven results they expect and deserve. Bob has a wealth of local real estate experience and a genuine passion for helping people buy or sell their homes.
Elli's Hair West 703 8 Street, 2nd floor. Winner of best overall float of 2017 Canada Day parade, Elli's Hair West provides hair salon services in Canmore for guys and gals. Their talented hair stylists offer complete hair care and can perform even the most complex of haircuts and styling. They offer all types of services including highlights, colouring, perms and roller sets. If you are celebrating a special occasion, such as a prom or graduation, they can have you looking your best. They also carry a number of haircare and styling products, including organic and locally made brands.
Canmore Downtown Dental 707 8 Street #204 For over 25 years Canmore Downtown Dental has been serving Canmore and the Bow Valley area as a complete dental service provider. Canmore Dental Care has one of the most complete and modern dental practices in Alberta. From comprehensive general dentistry to complex dental cases, they are fully equipped to provide the best care available.
Wildflower Massage & Esthetics #5 – 713 Main Street, 2nd floor. Open since 2001, Wildflower is one of the leading spa's in Canmore and the Bow Valley. Renowned for high service standards in both massage & esthetics, they are the ideal spa for small wedding groups and mountain spa retreats!
categories. Services include massage therapist and day spa services.
Main image – photo by Tourism Canmore Kananaskis & Paul Zizka