Either you burned a ton of calories hiking or climbing, celebrating life (and being in Canmore), or have no excuse at all, Canmore will satisfy your sweet tooth.
We're going to share with you these downtown Canmore sweet spots where you can get your sugar high:
Olde Tyme Candy Shoppe
717 Main Street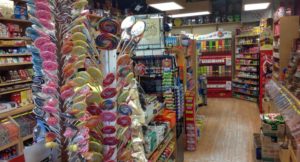 These friendly folks are sweet on providing a huge selection of novelty candies and chocolates, and pretty much guarantee you will find something that will make your mouth water.
Timothy's Popcorn and Candy
634 Main St
One of the newest additions to the sugar rush in Canmore, this little boutique doesn't disappoint. With its large range of Saltwater Taffy, unique treats and kettle corn – you'll smell Timothy's well before you arrive! Yum!
Black Rock Fudge & Gifts
701 Main Street
"We saw the sign for fudge and it called for us to come in. We tried several different things and they were all delicious. (Rocky road, pecan turtles, peanut butter chocolate fudge) we've been twice in 3 days and will probably go back before our vacation is over." – Lacey
BeaverTails!
Located inside Rusticana Grocery (801 Main Street)
Seek relief from a day in the mountains and have a Beaver Bite. It's the best of both worlds – hot morsels of BeaverTails pastry served with your choice of gelato or frozen yogurt and a variety of delicious toppings! Newly opened, "Beavertails is definitely the best thing that has ever happened to Canmore." –  Molly-Rae
The Scoopin Moose
722 Main St
Locally owned and operated, this ice cream parlour serves up 28 delicious flavours of ice cream, delicious sundaes with over 10 toppings to choose from. Maybe you're the traditional type, try a milkshake or a classic float – orange pop float anyone?
Canary Frozen Yogurt
710 Main St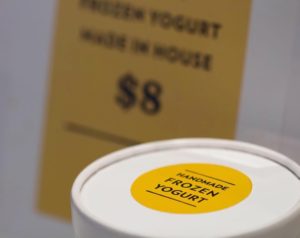 If you're looking to tone down on the sweetness factor, go for homemade frozen yogurt & sorbetto at Canary Frozen Yogurt. Nothing like a little matcha green tea froyo and blackberry sorbet swirl to start your weekend! A little birdie tells us to try their wildly popular Tart vanilla yogurt.
JACEK Chocolate Couture
638 Main St
Tucked inside Stonewaters Home & Gift is a perfect place to get your couture chocolate fix. Inspired by fashion, JACEK launches seasonal collections to that are a treat to the eyes and the taste buds.  Using fine chocolate from France, JACEK takes pride in the craft of chocolate making.
Old School Bus Ice Cream621 Main St

You scream, we scream…for ice cream and shaved ice!
Take your memory back to those days on the bus chewing "Bubble Gum", going down the "Rocky Road" and dreaming of someday making a "Mint".
For more ideas on things to do and see, or places to dine, visit the Downtown Canmore website and follow us on Facebook.