With the Canadian Rockies surrounding Canmore as one huge outdoor interactive sensory experience, why not step inside one of the many, beautiful and unique art galleries for a different perspective.Canmore is home to many talented
Canmore is home to many talented artists and art galleries all within the downtown core. Visit a gallery, purchase a piece on the spot, or shop online. Also, because galleries provide a social atmosphere –  watch for special events with local music, interpretive talks, and workshops that bring the community together.
Find these fabulous art galleries in downtown Canmore:
Silver Tree Studio
#104-729 Main Street, Canmore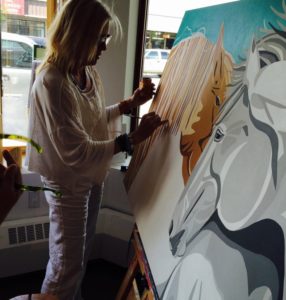 When you walk into Silver Tree Studio, colour grabs your attention. LL Harrison loves colour and it shows. This creative thinker, artist, and alchemist of colour is a natural hostess. Silver Tree Studio specializes in original Canadian Rocky Mountain landscapes, portraiture of Canada's first nation people, and various creatures of interest. Drop by her studio, have a chat with this remarkable lady and browse her art, clothing line, curios, knicks, and knacks. She also hosts live painting sessions throughout the week.
Carter Ryan Gallery
705 Main Street, Canmore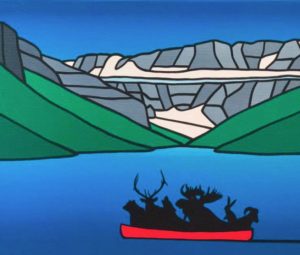 The Carter-Ryan Gallery and Live Art Venue is a gallery by day that celebrates the works
of one of Alberta's most prolific artists, Jason Carter.  At night, and weekends, the space is transformed into a venue for cabarets, great stories, and zippy musical revues.
Jason Carter (the "Carter" in Carter-Ryan ) is one of Canada's most exciting and accomplished contemporary Aboriginal visual artists. Most recently, Jason installed over 45 original pieces at the new International Terminal at The Calgary International Airport which took 3 years to complete.
Jason Carter and Bridget Ryan (the "Ryan" in Carter-Ryan) have collaborated to create a children's book "Who Is Boo" which chronicles the tales of a trickster rabbit that travels the world meeting new friends.
All in the Wild
712A Main Street, Canmore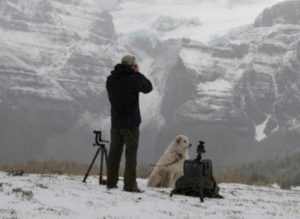 All in the Wild Photography, features the images of Jason Leo Bantle. A photographer who shares his love of nature and its wild inhabitants to each photo, telling a story and taking you to where nature lives. Jason works hard to capture nature in its wild essence – no filters or digital enhancements are used. Jason's fine art photography is collected internationally and can be found in three coffee table art books. By purchasing Jason's images, you support conservation of our fragile and threatened natural spaces.
artsPlace
950 – 8th Avenue, Canmore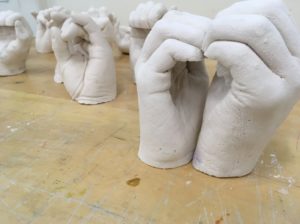 artsPlace is Canmore's community arts Centre is a user-friendly space where Bow Valley residents and visitors gather. They offer a full range of classes, workshops, camps, performances, films, and exhibits to help enrich your stay in Canmore.
From drawing to painting, ceramics to pottery, textiles, stained glass-fusing, jewelry-making, theatre and music workshops. Their classes are structured and taught by local Bow Valley artists.
artsPlace offers many free events and activities such as their popular Sunday Morning Family Drop-in. Visit their Facebook Page and check out their events, like Creative Combat 3.0 event on September 30th – a fundraiser that brings local celebrity artists together to paint a work of art in 20 minutes while a live DJ spins.
Arty Farty
Located in Stone Waters – 638 8 Street, Canmore
Canmore artist Libby finds endless inspiration and beauty in the Canmore area to fuel her passion and refine her ability to create a wide variety of works. As with any true artist, Libby's work has no bounds and is in a perpetual state of evolution. Looking through her quirky gallery, you'll find wild life such as polar bears, owls, wolves, beavers and beautiful landscapes. Browse through the online art gallery and purchase an acrylic on canvas. New works are also available at Stone Waters in Canmore.
Avens Gallery
101- 710 Main Street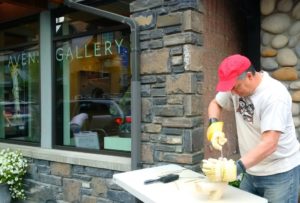 Located right on Main Street and open every day, the Avens features 40 accomplished local and Western Canadian artists and is well-known for their friendly, knowledgeable staff.
Step inside and discover works created in oil, acrylic, and photography as well as three-dimensional works in stone & bronze. Avens Gallery regularly hosts Artists in Session events where you can watch them in action and have a chat. Stay tuned for events where you can mingle with artists, have a refreshment, and listen to live music.
Elevation Contemporary Art Gallery
729 Main St Unit 100, Canmore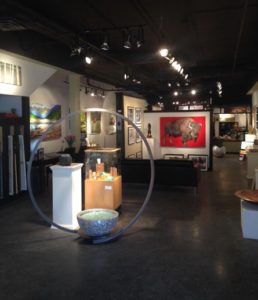 Boasting not only a brilliant collection of fine art by emerging and mid-career artists, Elevation Art gallery also has an eclectic grouping of fine jewellery by award winning goldsmiths.
If you've recently purchased a place in Canmore and are looking for art, they'll be happy to provide you with an art consultation. Purchase a piece from the gallery and receive free delivery and installation, too.
Hosting various exhibitions and special events – Elevation is passionate about supporting local artists.
Fallen Leaf Gallery
102 -822 Main St # 102, Canmore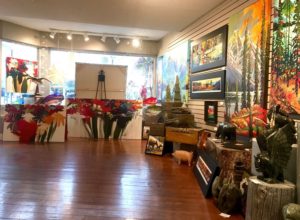 Specializing in large paintings, the Fallen Leaf Gallery is proud to represent the best of local and Canadian artists. Here, you will find works created in oil, acrylic, watercolour, as well as three-dimensional works in ceramic, glass, fused glass, bronze, and metal. They showcase established artists as well as emerging talent that can suit a variety of tastes, in a colourful relaxing atmosphere.
Drop by the gallery when you're in Canmore, art fanatics will love the colourful, bright and inspiring works on display.  Shop online.
For more ideas on things to do and see, or places to dine in Canmore, visit the Downtown Canmore website and follow us on Facebook.